The Panton Pantella Floor Lamp by Verner Panton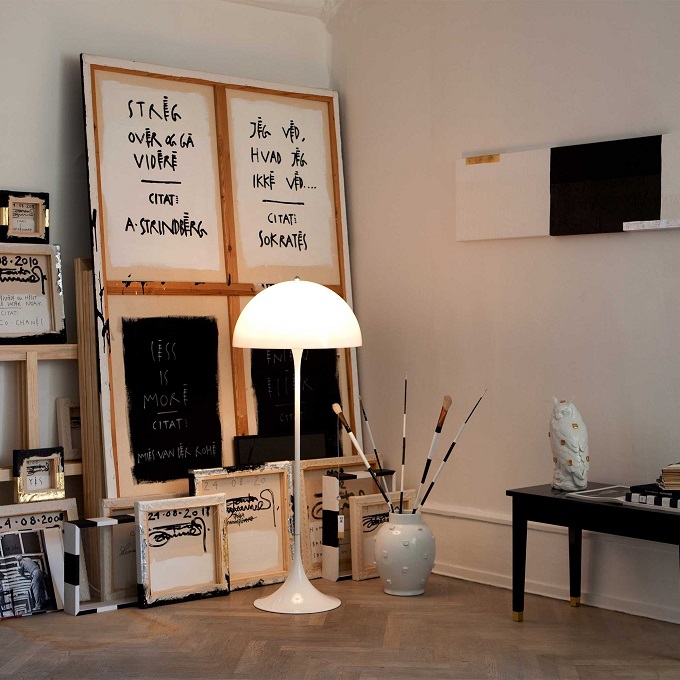 The Panton Pantella Floor Lamp by Verner Panton
If you are looking for a classic, yet modern floor lamp, consider the Panton Pantella Floor Lamp. Introduced in 1971 by Verner Panton, this design features futuristic organics in plastic. The designer used plastic as a material medium, and the white finish helps to reflect light. Both the base and shade act as reflectors, allowing the lamp to spread light over a large area.
Verner Panton
Verner Panton is one of Denmark's most influential designers. He was born in Funen and studied architecture at the Royal Danish Academy of Fine Arts in Copenhagen. He later served as an apprentice to Arne Jacobsen, the designer of the iconic Ant Chair. Panton's work combines organic and geometric forms to produce avant-garde pieces.
Verner Panton trained as an architect and began his career by designing furniture, interiors, lighting, and furniture. In 1955, Panton opened his own experimental architecture studio in Denmark and began exploring new materials. He was particularly fond of plastics and was inspired by Pop Art. His first work in this field was the Cone Chair, which was first produced in 1959. From there, he moved on to develop an inflatable furniture collection.
Panton was a highly creative and visionary designer who won numerous awards. After moving to Basel, he worked with companies such as Herman Miller and Vitra. He also collaborated with architects on various projects. The internationally renowned designer won the International Design Award in the United States, the German Gute Form Award, the Danish Mobelprisen, and the Norwegian Design Award. He died in 1998. But his legacy lives on.
Panton's sculptural lighting designs are widely admired. He used UFO-like metal elements, plastic balls, and twisted strands of plastic to create a distinctive aesthetic effect. He also believed in the infinite possibilities of form. Throughout his career, Panton developed several important concepts in lighting. Some of his most popular pieces include the Pan-top Collection, the VP Globe, the Panthella Mini, and the 'Fun' collection.
Verner Panton's Panthella lamp
Verner Panton wanted to design a table lamp with the base and shade acting as reflectors. The Panthella has a trumpet-shaped base and a hemispheric metal shade that directs light towards the light source. This lamp is known for its innovative use of metal.
This table lamp was created by Danish designer Verner Panton and Danish architect Louis Poulsen. It features a large E27 screw connection for low-energy halogen bulbs and an on/off switch on a white cable. It measures about 400 x 580 x 400mm and weighs 2.5 kg.
The Panthella table lamp features a distinctive, organic shape and faultless functionality. The light it provides is glare-free and soft. The intensity of light varies depending on the shade used. The opal acrylic shade produces a softer diffused light due to the downward reflection from within the shade. The metallic shade, on the other hand, produces a concentrated downward light with a clear white inner surface.
Originally introduced in 1971, the Panthella table lamp was designed by Verner Panton and produced by Louis Poulsen Lighting. The light produced by this lamp emits an attractive, sensual glow. It is considered one of the most beautiful mid-century modern Scandinavian designs. The Panton Panthella lamp is an iconic piece of furniture from the 20th century.
Verner Panton's Heart Cone chair
The heart-shaped chair from Verner Panton is a classic design with an unusual twist. The chair's shape resembles a heart, and its shape has been reinterpreted in several variations by designers over the years. The heart's shape is also available in leather and a variety of other materials. It was created in 1959 and comes with its own matching heart-shaped stool.
The Heart Cone Chair was designed by Danish artist Verner Panton in the 1950s. The name comes from the chair's heart-shaped silhouette. It is inspired by the iconic heart-shaped seat of the Chesterfield. Its rounded wings resemble the ears of a mouse and its heart-shaped silhouette is reminiscent of Mickey Mouse's ears. The chair was a major hit with the public and was re-issued by Vitra and the Panton estate.
Verner Panton is a Danish designer who made his name with his futuristic pop art designs. His work was renowned during the 1950s when Danish design was at its most popular. While many designers, including Hans Wegner and Arne Jacobsen, focused on materials and craftsmanship, Panton had a more adventurous approach. He created inflatable furniture and experimented with plastics, creating furniture with strong geometric shapes.